Solid form changes during drug development: good, bad, and ugly case studies
Received: 9 November 2015
Accepted: 17 February 2016
Published: 25 February 2016
Abstract
The relevance of solid form in drug development has been well established over time. In order to fully understand drug properties, attention has been paid to solid state structure of drug molecules and their relationship to the drug formulation. While each drug developer has had their own strategies and workflows for screening and choosing solid forms of drug molecules, the industry is aware of instances where "the best laid plans" often go awry. This manuscript has summarized several case studies in development programs that display the "good, bad, and ugly" of solid form changes.
Keywords
Solid formsCrystalline formsAmorphous materialsPolymorphsSaltsCocrystalsAmorphous solid dispersionsCase studies
Background
It has been reported that the solid form of active pharmaceutical ingredients (APIs) has significantly impacted quality and consistency of the final dosage form for drug development compounds (Newman and Byrn 2003), especially for solid oral dosage formulations. Therefore, monitoring and controlling the API solid form in both drug substance and drug product has been recommended in order to ensure consistent biopharmaceutical properties throughout a drug development program.
Every innovator drug developer has approached API solid form decisions with a unique paradigm; however, identifying and maintaining the optimal API solid form in early pharmacokinetic studies, as well as maintaining this form through product launch, has been recognized as an ideal situation. This utopian scenario, however, has often been noted to be far removed from reality, especially if the API solid form has been ignored or assumed to be trivial for a particular program. This has often led to significant program delays and cost as bioequivalence studies, new crystallization studies, or formulation development may have been needed.
This manuscript presents the "good, bad, and ugly" aspects of API solid form changes in the pharmaceutical industry. It has explored and elaborated upon specific case studies that outline the impact of API solid form changes brought about by choosing a non-ideal salt form for early preclinical development, relaxed due-diligence for a "fast-tracked" compound, a serendipitous late stage form change, lack of attention to solid form for an in-licensed compound, and a less than bullet-proof intellectual property (IP) landscape surrounding an innovator molecule.
The goal of these examples was to show that adequate attention to API solid form during development will aid in managing risk for a program. Whether an innovator company was looking to out-license a gold molecule as a platinum package, an innovator company was looking to bring a drug to market with a strong patent landscape, or a generic company was looking to enter the market with IP for their molecule, the case studies presented in this manuscript clearly show that API solid form is an important aspect of any development program.
The case studies presented, in addition to many other un-published examples, have confirmed to pharmaceutical scientists that no screening strategy can guarantee that all crystal forms have been discovered. However, appropriate attention to API form and a sound screening strategy has had the potential to mitigate the risk for form changes in the API and drug product.
Solid forms have been defined as both crystalline and amorphous materials in this paper. Crystalline forms have been sub-classified into categories outlined in Fig.
1
, and described as neutral (such as free forms and co-crystals) and charged (salts or salts of co-crystals) species. Each category of crystalline materials has the possibility of displaying polymorphism (solvates and hydrates have been included in our polymorph classification based on the regulatory definition). Any material from the crystalline API categories that lacks long range order as characterized by x-ray powder diffraction (XRPD) has been referred to as amorphous API.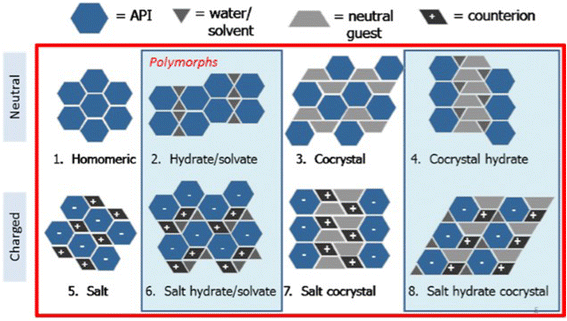 Conclusions
The case studies in this manuscript have been presented to show why it has been critical to characterize, understand, and monitor the solid form in all stages of drug discovery and development. While these case studies have been presented in the literature, there have been even "uglier" cases that have not been published. It is important for researchers to realize that form selection is not a unit operation, but an integral part of the entire drug development process, with no clear beginning or end; instead, there should be continuous scrutiny and monitoring as a candidate progresses from discovery to development to market and beyond.
Abbreviations
API:

active pharmaceutical ingredient
BCS:

Biopharmaceutics Classification System
BDDCS:

Biopharmaceutics Drug Disposition Classification System
CRU:

Clinical Research Unit
FDA:

Food and Drug Administration
HCl:

hydrochloride
HIV-1:

human immunodeficiency virus type 1
IP:

intellectual property
LAI:

long acting injection
OTC:

over-the-counter
RH:

relative humidity
Declarations
Open AccessThis article is distributed under the terms of the Creative Commons Attribution 4.0 International License (http://creativecommons.org/licenses/by/4.0/), which permits unrestricted use, distribution, and reproduction in any medium, provided you give appropriate credit to the original author(s) and the source, provide a link to the Creative Commons license, and indicate if changes were made.
Authors' Affiliations
(1)
Seventh Street Development Group, Kure Beach, USA
(2)
Crystal Pharmatech, New Brunswick, USA