Developing key performance indicators to measure the progress of regional regulatory convergence and cooperation in Asia-Pacific Economic Cooperation (APEC)
Sannie Siaw Foong Chong

1

Email author

,

John C. W. Lim

2 and

Toshiyoshi Tominaga

3
Received: 22 January 2018
Accepted: 23 April 2018
Published: 31 May 2018
Abstract
Regulatory convergence and cooperation among the authorities in the field of medical products (medicines and medical devices) are essential to deliver safe and efficacious products quickly to patients. APEC established the Regulatory Harmonization Steering Committee (RHSC) to advance this cause among member economies. This paper identifies four areas of appropriate regulatory practice in which APEC economies could converge, and explores the feasible processes of how APEC economies could cooperate in order to bring about realization of a maximum level of regulatory convergence by 2020.
Keywords
APECRegulatory convergence and cooperationKey performance indicators
Background
Since the inception of the International Council for Harmonisation of Technical Requirements for Pharmaceuticals for Human Use (ICH) in 1990, harmonization of regulatory requirements has been progressively and successfully achieved in major jurisdictions around the world. This has benefited global public health and national health systems mainly through transparency and predictability of what scientific dataset is required to support the approval of a new pharmaceutical, hence advancing the innovation of drug development. In addition, convergence and cooperation (information exchange, work sharing, reliance, and recognition) (WHO Good Regulatory Practices 2016) have been facilitated among the ICH regulatory members (ICH Official website 2018) in order to optimize efficiency in regulatory processes without duplication in efforts.
In 2010, the RHSC established under APEC's Life Sciences Innovation Forum (LSIF) advocated for regulatory convergence in pharmaceuticals for improved public health and economic development among its 21 economies (APEC Member Economies 2017). Convergence will focus on the process of aligning multiple countries' regulations for greater regulatory cooperation and does not necessarily require the regulations to be "harmonized". According to an RHSC strategic framework document released in 2010, while each economy may adopt each phase on its own timeframe, the ultimate aim would be for APEC economies to achieve the maximum level of regulatory convergence feasible by 2020 (APEC RHSC Vision 2020).
This paper identified four areas of appropriate regulatory practice in which APEC economies could converge. The four areas are related to the use of (1) Certificate of Pharmaceutical Product (CPP); (2) the Pharmaceutical Inspection Co-operation Scheme (PIC/S) membership; (3) managing multiple sites in one license; and (4) risk-based reliance evaluation system. These four areas could be explored together with the feasible processes of how APEC economies could cooperate that would facilitate the defining or development of key performance indicators (KPIs) to measure the progress of convergence to assess whether "the regulatory requirements across economies become more similar or 'aligned' over time" (APEC RHSC Vision 2020).
Evolution of regulatory harmonization, convergence, and cooperation: The ICH experience
From the early 1990s onwards, international regulatory harmonization for new drug development has been pursued under the efforts of ICH. This has given rise to a standardized format, i.e. the common technical document (CTD), for companies to consolidate their scientific dataset for regulators' evaluation. Over the years, ICH members have also jointly developed some 70 guidelines to provide scientific principles and assessment details of the various sections listed in the CTD. Through the acceptance and full implementation of ICH guidelines by ICH members, regulatory requirements were harmonized among the ICH members. This great achievement has not only advanced access of new drugs to patients, but has also become the gold standard by which any regulatory authority can base its assessment framework for approving a new drug that is shown to be safe, efficacious and of good quality.
The ICH efforts have created a "common language" among international regulatory stakeholders and has promoted increasing cooperation among national regulatory authorities. Three levels of cooperation can generally be identified as shown in the shaded ellipses of Fig.
1
(Tominaga
2013
):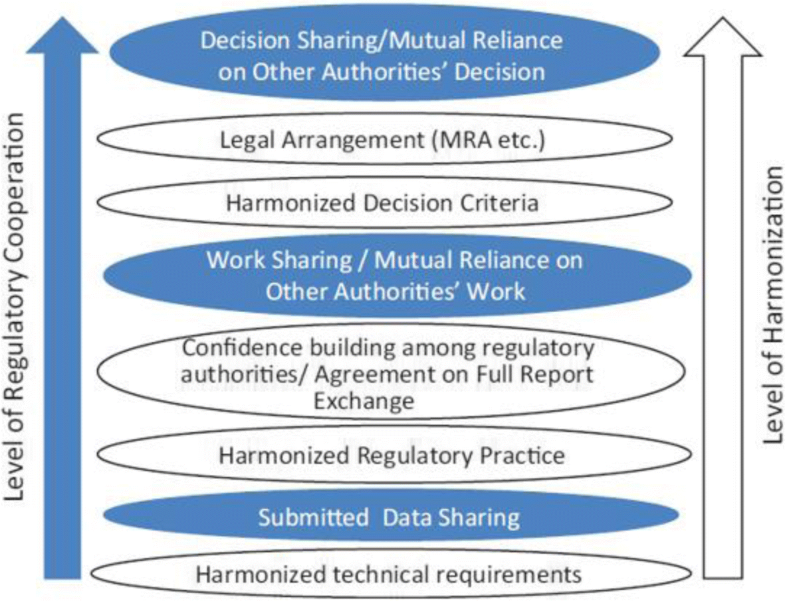 Level 1: Information sharing/reliance.
Level 2: Working-sharing/mutual reliance.
Level 3: Mutual recognition.
Level 1 cooperation is feasible for regulators who adopt ICH requirements but are not yet full members of ICH, and who can leverage on the assessments completed by stringent regulatory authorities (SRA) (WHO collaborative procedure 2017). The use of a SRA's assessment report enables a non-ICH regulator to expedite learning of ICH guidelines applied to evaluate scientific datasets and arriving at sound decisions while minimizing duplication efforts.
Level 2 cooperation takes place when the regulatory practice made on the data is also harmonized. For example, when confidence building is in place and the procedures for Good Manufacturing Practice (GMP) audit are harmonized, one authority can rely on the audit reports of another authority to base its decisions without duplicating the physical auditing process of the same manufacturing premises. This mutual reliance on work products of other authorities or work sharing among authorities is the next level of regulatory cooperation.
Level 3 and the highest level of regulatory cooperation is mutual recognition. However, the sharing of regulatory decisions among national regulatory authorities cannot be achieved easily due to factors such as differences in expertise and capacity, legal and risk frameworks, mutual understanding of systems and processes, and sovereignty issues. It is even more difficult when the process needs formalization and a legal arrangement such as a mutual recognition arrangement (MRA) must be concluded.
The PIC/S established since 1995, is an extension to the Pharmaceutical Inspection Convention (PIC) of 1970. PIC/S is a non-binding co-operative agreement between regulatory authorities in the field of GMP of medicinal products for human or veterinary use. PIC/S aims at harmonizing the inspection procedures worldwide by developing common GMP standard and provide training opportunities to inspectors. It also aims to facilitate co-operation and networking between regulatory authorities (PIC/S Brochure
2016
). The common standards and practices of ICH and PIC/S requirements have facilitated the following examples of cooperation among ICH members:
(a)

Information-sharing/reliance: Health Canada does not evaluate the drug master file of a generic drug if a Certificate of Suitability (CEP) issued by the European Directorate for the Quality of Medicines and Healthcare (EDQM) is already available (Government of Canada 2017);

(b)

Work-sharing/mutual reliance: The U.S. Food and Drug Administration (USFDA) and European Medicines Agency (EMA) initiated their pilot joint assessment of Quality by Design dossier (EMA-FDA pilot program 2013);

(c)

Mutual recognition: US FDA and EMA are currently developing a GMP MRA (EU-US mutual recognition of inspections 2017).
Best practices and feasible processes for APEC economies' convergence
In 2010, the APEC RHSC advocated for regulatory convergence in pharmaceuticals among its 21 economies so as to improve public health and economic development. The term "convergence" was clearly defined by the RHSC (APEC RHSC Vision
2020
) with the understanding that:
Regulatory convergence represents a voluntary process whereby the regulatory requirements across economies become more similar or "aligned" over time as a result of the gradual adoption of internationally recognized technical guidance documents, standards and scientific principles (harmonization) and common or similar practices and procedures.

It does not represent the harmonization of laws and regulations, which is not necessary to allow for the alignment of technical requirements and for greater regulatory cooperation.
The RHSC initiative does not seek to develop new guidances; rather, it relies upon existing guidances already developed by international harmonization organizations, with ICH as the primary source. The efforts of RHSC focus on "convergence", i.e. on the process of aligning APEC economies' regulatory requirements based on best practices for optimal regulatory cooperation.
For the purposes of APEC RHSC activities and this Framework, the concept of "harmonization" represents the development and adoption of the same standards or requirements. Harmonization may also be applied to procedures and practices to see that these are the same across economies. The significance of the introduction of this concept is the emphasis that harmonization and convergence of drug regulations among multiple countries across the Asia-Pacific are ultimately for regulatory cooperation to expedite the access of patients to medicines and to benefit public health. In order for cooperation at the various levels (Fig. 1) to take place, regulatory processes and practices essential for such cooperation will first need to be put in place. However, while harmonization refers to processes that develop uniform standards across jurisdictions, regulatory convergence is a more pragmatic and feasible approach that better accommodates sovereignty and legal issues which make it difficult to achieve complete standardization across different economies.
This section aims to recommend four prioritized areas of appropriate regulatory practice in which convergence can be maximally achieved by 2020. Accordingly, KPIs can be developed in relation to these four areas to measure the progress of convergence to determine whether the regulatory requirements across economies become more aligned over time. The four areas are:
A.

The appropriate use of the CPP;

B.

The appropriate use of PIC/S membership;

C.

The appropriate management of multiple sites; and

D.

The appropriate use of risk-based evaluation based on information
Proposed KPIs to measure APEC regulatory convergence and cooperation
Based on the discussion above, several KPIs linked to the four areas of appropriate regulatory practice could be used to help measure the progress of regulatory convergence on regulatory approval procedures for medical products across APEC economies by 2020 (Fig.
2
).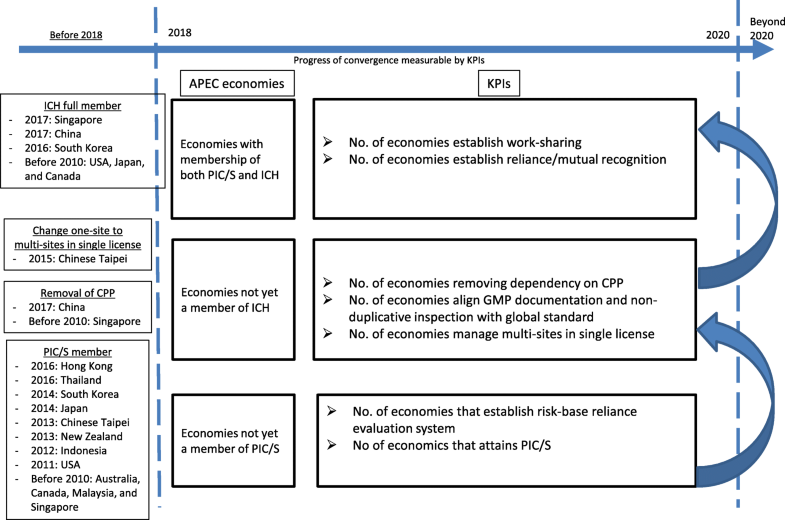 The potential KPIs for the various economy groupings are as follows:
(a)

APEC economies not yet a member of PIC/S:
(i)

Number of economies with risk-based reliance evaluation system;

(ii)

Number of economies attaining PIC/S status.
(b)

APEC economies not yet a member of ICH:
(i)

Number of economies removing CPP dependence and aligning with ICH practice;

(ii)

Number of economies aligning GMP documentation and non-duplicative inspection to that of international practice;

(iii)

Number of economies managing multi-sites in a single license.
(c)

APEC economies with membership of both PIC/S and ICH:
(i)

Number of economies with work-sharing arrangements and mechanisms;

(ii)

Number of economies with reliance/mutual recognition arrangements and mechanisms.
Regulatory convergence and cooperation should be promoted together. This is because for convergence to be meaningful, greater targeted cooperation amongst regulatory authorities should be realized in areas such as information sharing, relying on each other's decisions and work sharing to minimize duplication and enhance efficiency. Accordingly, the degree of success of regulatory convergence and cooperation will need to be measured by defining or developing a combination of KPIs that collectively measure convergence and cooperation.
Capacity building
To help promote convergence across the APEC region, capacity building is a clear need and enabler. Capacity building activities for regulatory authorities should be designed with clear awareness that one major purpose is for trainees to acquire skills and knowledge to enable their organizations to start leveraging on stringent authorities' assessments and decisions in an appropriate manner, while developing their own regulatory capabilities to conduct independent, science-based reviews and other important local regulatory functions such as pharmacovigilance and supply chain integrity, in line with WHO's recommendation that regulatory authorities should focus "on what cannot be done by others while leveraging the work of other trusted NRAs and regulatory networks" (WHO Good Regulatory Practices 2016).
APEC has already introduced the frameworks for identifying and supporting Centres of Excellence (COEs) such as those in Duke-NUS Medical School in Singapore, Beijing University, Japan's Asia Training Center and Northwestern University in the USA (APEC Harmonization Center 2018). The courses of these COEs should aim to incorporate training on the use of public assessment reports or inspection reports issued by the stringent authorities to identify elements that matter in order to conduct appropriate benefit-risk assessments and reach sound regulatory decisions without compromising on scientific robustness. Trainees should be encouraged to develop risk-based reliance evaluation processes in their respective regulatory frameworks and become competent to eventually conduct independent evaluations based on international standards.
APEC economies can draw lessons from each other's experiences to expedite convergence through meaningful practical training that will bring about maximal outcomes. Based on the success stories of various APEC economies achieving convergence efforts cited in this paper, the following economies could potentially be invited to share experience in the context of existing or new CoEs:
(a)

China - streamlining CPP dependency;

(b)

Australia and Singapore - risk-based evaluation procedures based on information-sharing;

(c)

Mexico - attaining PIC/S membership (Mexico to join PIC/S 2017);

(d)

Canada, Australia and Singapore - minimizing country specific GMP documentation required as pre-inspection packages and non-duplicative inspection based on best practices (HSA Guidance Page 51–55, 2016);

(e)

South Korea - becoming ICH member by the adoption of ICH Q1, Q7 and E6 guidelines (ICH Members & Observers 2017);

(f)

Chinese Taipei - managing multi-sites in one license.
Conclusion
National regulatory authorities are charged with the responsibility to ensure that the health products used by their populations are safe, efficacious and of good quality. It is also the duty of these authorities to expedite access of patients to the medicines and medical devices they need in a timely manner. With the ever increasing complexity of new biomedical and biotechnological products and development, coupled with the challenges arising from the global supply chain, the need for regulatory convergence and cooperation is essential rather than optional. In today's world, no single regulatory authority can claim that it is fully resourced to manage all issues relating to pre- and post-marketing of all the medicines and medical devices available in its country. The rational way forward is therefore to optimize the use of scarce resources in cooperation with regional and international regulatory counterparts, while administering a robust regulatory system that does not duplicate efforts to ensure timely access of health products to patients in a reliable and efficient manner.
APEC's continuing efforts to develop and promulgate good review practices are paving the way toward the sharing of review reports among participating authorities (Lin et al. 2015). Specifically, APEC regulators should embark on aligning best practices and processes of those prioritized areas as highlighted in this paper, as essential building blocks for ensuring the success of regulatory convergence.
Abbreviations
APEC:

Asia Pacific Economic Cooperation
CEP:

Certificate of suitability
COE:

Centres of excellence
CPP:

Certificate of pharmaceutical product
CTA:

Clinical trial application
CTD:

Common technical document
EDQM:

European directorate for the quality of medicines and healthcare
EMA:

European Medicines Agency
GMP:

Good manufacturing practice
HSA:

Health Sciences Authority
ICH:

International council for harmonisation of technical requirements for pharmaceuticals for human use
LSIF:

Life sciences innovation forum
MOU:

Memorandums of understanding
MRA:

Mutual recognition arrangement
NDA:

New drug application
PIC:

Pharmaceutical inspection convention
PIC/S:

The pharmaceutical inspection co-operation scheme
RHSC:

Regulatory Harmonization Steering Committee
SRA:

Stringent Regulatory Authorities
TGA:

Therapeutic Goods Administration
USA:

United States of America
USFDA:

U.S. Food and Drug Administration
Declarations
Acknowledgements
SSFC thanks Dr. Wassim Nashabeh from F. Hoffmann La-Roche Ltd. for his inspirational leadership in the advocacy of APEC regulatory convergence. The authors acknowledge Dr. Dorothy Toh from Singapore HSA for reviewing the case study of her organization, and Ms. Shamsuria Sumsoory for providing editorial support.
Funding
Processing fee of AAPS open was provided by SSFC's organization.
Authors' contributions
TT contributed to the writing on ICH and the creation of Fig. 1 with its level of convergence and cooperation. SSFC formulated the methodology with the four ideas of best practices identified, as well as the proposed KPIs to measure regulatory convergence. JCWL created the recommendation to incorporate sharing of the APEC economies' success into the existing CoEs as potential model for enhancing capacity building. Each author reviewed and approved the final version of the paper.
Competing interests
The authors declares that they have no competing interests.
Publisher's Note
Springer Nature remains neutral with regard to jurisdictional claims in published maps and institutional affiliations.
Open AccessThis article is distributed under the terms of the Creative Commons Attribution 4.0 International License (http://creativecommons.org/licenses/by/4.0/), which permits unrestricted use, distribution, and reproduction in any medium, provided you give appropriate credit to the original author(s) and the source, provide a link to the Creative Commons license, and indicate if changes were made.
Authors' Affiliations
(1)
Asia Pacific Technical Regulatory Policy, Pharma Technical Regulatory Policy and International Operations, Roche Singapore Technical Operations, F. Hoffmann La-Roche Ltd, Singapore, Singapore
(2)
Centre of Regulatory Excellence, Duke-NUS Medical School, Singapore, Singapore
(3)
Pharmaceuticals and Medical Devices Agency (PMDA), Tokyo, Japan